20|02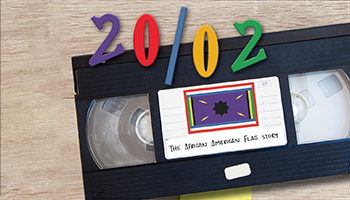 March 2 - 4
by Chloe and Kaylah Harvey and directed by Ruben Del Valle Jr.
20|02 follows Chloe and Kaylah Harvey in 2020 as they piece together a portrait of their father who died suddenly in 2002 in the midst of his plan to promote a flag celebrating African-Americans. By bridging the past and present through videos and interviews with family members, Chloe and Kaylah discover a man whose unexpected death left a hole in their family and ruptured a plan to uplift African-American communities in Baltimore and beyond. Their discovery proposes new beginnings if they and their family can find a way to mend the past and take up the flag for tomorrow.

Proceeds benefit the TU Foundation
May contain material recommended for a mature audience.

TU Center for Student Diversity and TU Department of Theatre Arts present 20|02 Post-Show Conversations

Friday, March 3
"20|02: From Life to the Stage," featuring playwrights Chloe and Kaylah Harvey moderated by TU alum Divinia Shorter '18 (Artistic Associate, Shakespeare Theatre, DC)

Saturday, March 4
"20|02: The People Behind the Story," featuring Chloe Harvey, Dr. Delores (Doc) Harvey, Kaylah Harvey, and Jamile (Jaye) Thomas; moderated by Jan Short from Morgan State University

Conversations will begin a few minutes after the performance ends and last approximately 30 minutes.