Towson University Music Faculty Recitals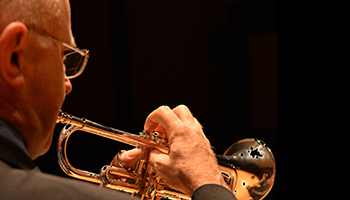 Dave Ballou: Another Leap
February 29
TU music faculty Dave Ballou performs with pianist Angelica Sanchez and others in a concert celebrating the oddity that is Leap Day. Compositions created especially for this concert will provide the groundwork for the group's sonic explorations. Come check out their discoveries!

View more Faculty Recitals.

Support Music at TU


TU Jazz Faculty Ensemble
March 1
Members of the TU Jazz Faculty ensemble—Dave Ballou, Jim McFalls, Jason Rigby, Jeff Reed, John Lee and Frank Russo—present an afternoon of improvisations and original compositions inspired by the intersectionality of the uniquely American art form.


Faculty Chamber Concert | Celebrate Beethoven!
March 29
The Baltimore Trio and guests celebrate the 250th anniversary of Ludwig van Beethoven's birth with a lively concert of works. Highlights of the program include the famous Piano Trio in D Major, Op. 70, No. 1, "Ghost" and the Cello Sonata in A Major Op. 69.

Songs of Youth, Love, and Loss
Concert Moved to April 4
Soprano Lori Hultgren and pianist Kanyoung Yoo will perform pieces by Schubert, Strauss, Berg, Korngold, Heggie, Gordon and Kahane. The program will highlight rarely heard pieces that are from the early compositional output of these beloved composers.