Mid Atlantic Youth Ballet and Center for Dance Education Concerts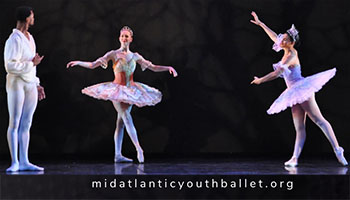 December 2 - 3
Mid Atlantic Youth Ballet is once again proud to present our original, full-length adaptation of The Nutcracker featuring landmarks, icons and culture unique to Maryland. Join in the revelry of our Preakness Party (scene), defeat the Hon Rats at the Battle of Baltimore, have Faith in the Snowflakes, and enjoy a stroll through other Baltimore sites.

Prices increase Monday, November 28.

Parking for Stephens Hall Theatre is a short walk from the garage to Stephens Hall. If you would like to drop any guests off in front of Stephens Hall, turn at Newell Avenue off York Road. DO NOT PARK in front of the building, this is a fire lane. For a map of the campus, visit www.towson.edu/maps.

Box Office Operations Info:
Online purchases are available anytime.
Regular office hours are Tuesday - Friday, 12 noon - 4 p.m.
Druing Thanksgiving week (November 22 - 28) the box office will be closed. Patrons can leave a message by phone at 410-704-2787 or email boxoffice@towson.edu.